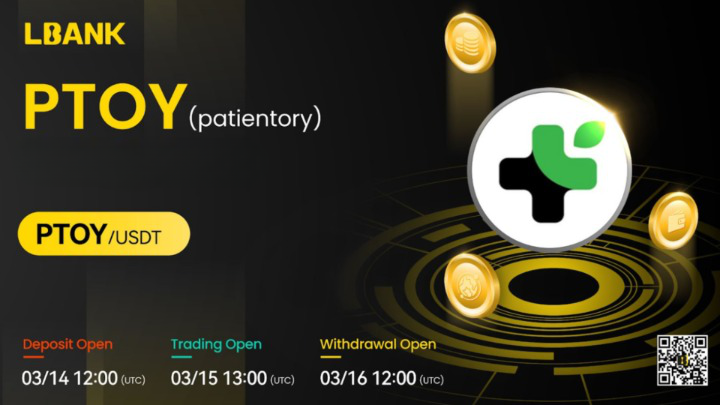 We are thrilled to announce that $PTOY is now listed on LBank Exchange. This integration marks an exciting milestone for our community and opens up new opportunities for traders and investors.
PTOY is a secure utility token based on ERC-20 that grants access to the private permissioned PTOYMatrix blockchain network. It can be used to buy additional storage on applications that use the PTOYMatrix as well as participate in company specific token use cases. It is also used in payments once smart contracts are executed with healthcare insurance companies and serves as a mechanism to regulate value based model metrics.
PTOY aims to drive the PTOYMATRIX's value towards interoperability and cybersecurity. This system intends to eliminate the friction and costs of current third‑party intermediaries when considering population health management. The storage network promises improved data integrity, reduced transaction costs, decentralization, and disintermediation of transparency/trust and directs the healthcare stakeholders to securely manage electronic medical data.
As an innovative project with a strong team and a growing community, PTOY has gained a lot of attention from investors and partners in the blockchain and healthcare industries. The integration with LBank Exchange will allow more users to buy, sell, and trade PTOY tokens and participate in the project's growth.
To celebrate the listing of PTOY on LBank Exchange, we will be holding a trading competition with a total prize pool of $,4000 in PTOY. The competition will last until Mar. 21st 12:00 (UTC). The top 100 lucky traders will share the prize pool of $4,000 in PTOY. Read more about $PTOY Airdrop https://bit.ly/3mVOZ79
Telegram: https://t.me/PTOYChat
Twitter: https://twitter.com/patientory_assn
Facebook: https://www.linkedin.com/company/patientory-association
Official Token Website: https://ptoy.org
Whitepaper: https://ptoy.org/whitepapers
If you have any questions or would like to see PTOY on other exchanges, please write to us at admin@ptoy.org